Wine lovers have spoken: Sicily has been predicted to become one of the most popular wine regions in 2023. The sentiment has emerged from a wine industry survey released by the fine wine and spirits integrated communications agency Colangelo & Partners and the wine industry research provider Wine Opinions. The two industry leading companies, in fact, recently combined their resources and expertise for a survey of the U.S. wine trade, a study designed to inform better decision-making for wine companies and wine marketers in 2023.
The survey drew over 1,000 respondents from all 50 states across the three tiers of the U.S. beverage alcohol industry, offering geographic and demographic balance. Nearly 50% of respondents came from New York and California, with Florida, Washington and Colorado being the next most prominent markets.
The research touched upon a broad array of topics including price sensitivity going into a potentially recessionary economic environment, predictions for growth of categories such as organic and 'better for you' wines, favored social media channels for the business of wine, preferences for in-person vs. virtual events heading into the new year, emerging secondary markets, and predictions for the 'next big thing' in terms of wine regions, where Sicily emerged as leading one.
Trendy wine regions and key markets
The regions that have attracted the most interest are evenly distributed among the main world production areas: Italy, Argentina, USA, Portugal. Among the respondents who predicted which wine region will boom in 2023, Sicily was followed by the Paso Robles area in California, the Douro in Portugal, Piedmont and Mendoza.
Among other data, the cities of Denver and Chicago, followed by Boston, San Francisco, Seattle, Austin and Miami emerged as the new key markets in the USA for 2023.
Industry Events and Social Media Usage
Another noteworthy nugget was the preference for in-person events vs. virtual events, which are still achieving popularity, although, over 2 years of distanced activities, consumers are reasonably ready and excited to go back to in-person interactions. Interesting to notice is also that the survey suggested that the walk-around tasting isn't dead and still popular.
Some of the most interesting findings were about social media usage. While it's not surprising that Instagram was the preferred social platform for doing wine business, it was a surprise to note that almost half of the respondents reported using TikTok in their work. TikTok-users skewed younger in age with 58% under the age of 40; 6% were 60-plus. Overall, the survey found that social media channels were used for business fairly evenly across the tiers of the trade.
Recession
Respondents were asked to estimate the retail "sweet spot" for 750ml wines in today's U.S. wine market. Their answers were recorded on a sliding scale from $10 to $30. They were then asked to indicate where they thought the sweet spot would be in the coming 6 – 12 months (on the same scale). In total, the sweet spot was estimated at $20, and projected to rise to $21 in the coming months.
The importance of sustainability
Respondents were also asked to state the degree of importance that wines they are considering as portfolio additions are either produced from organically-grown grapes or produced by a winery that has been certified for sustainable practices.
Importance was indicated on a 7-point scale, where "7" meant "extremely important," and "1" meant "not important at all." The chart below shows the percentage by trade tier of respondents who gave "top two box" ratings ("6" or "7").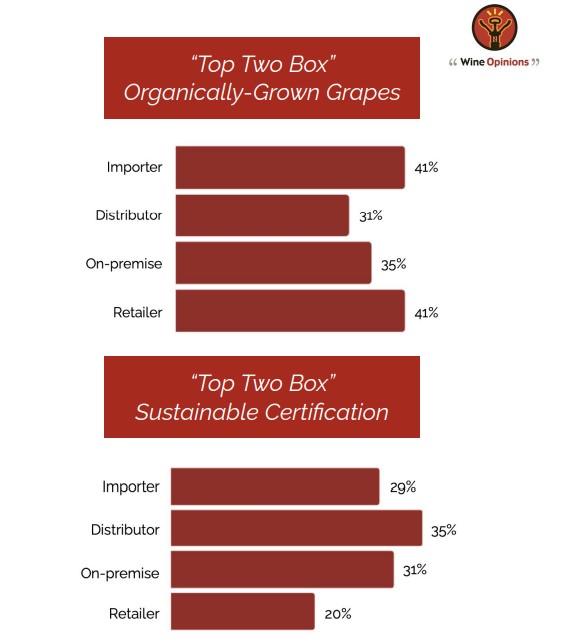 It was of interest that while importers and retailers gave the highest levels of importance to organically-grown grapes, distributors and those in the on-premise tier were somewhat more inclined to value sustainable certification.